Best Practice for Pressure & Leak Testing
Posted: 19 Jan 2018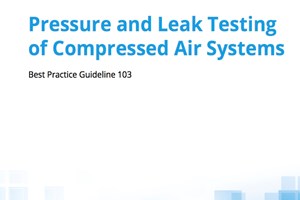 British Compressed Air Society publishes new guidelines
The BCAS has produced a most valuable new set of guidelines for compressed air users. This details how considerable savings in energy consumption can be achieved.
One of the major ways that you can reduce the energy consumption and therefore cost of a compressed air system is by identifying leaks and taking action to reduce them. A 3mm hole, for example, could cost your organisation over £600 per year in wasted energy.
The 18-page BCAS Pressure and Leak Testing Guide covers the most commonly encountered commissioning situations where you need to establish the compressed air system's safety and efficiency.
It outlines the importance of choosing the right supplier and assessing their competence, agreeing an acceptable leakage rate and the procedures for testing both new and existing installations.
CPC is accredited to carry out these tests in compliance with all current best practice
Contact us for more details. To download the guide, please click here.
---