HPC Launches new 75-130kW Compressors
Posted: 25 May 2017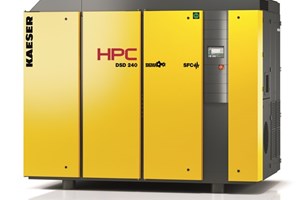 New 75 to 130 kW DSD & DSDX Series HPC rotary screw compressors. This new range represents the latest thinking in compressor design.
With free air deliveries from 14 to 30.2 m³/min (494 to 1067 cfm) and a range of SIGMA motors combining to deliver up to five percent improved specific power compared to previous models, this new range represent the latest thinking in compressor design.
The compressor air-ends have been completely redesigned and now feature a refined SIGMA profile design. This, along with other improvements to details, such as a redesigned inlet valve and significantly reduced internal pressure losses, delivers improved specific power – up to five percent better – compared to previous models.
Maximum efficiency
New Super Premium Efficiency IE4 motors, the most efficient currently available, also help to achieve this improvement and therefore enable peripheral losses in compressed air production to be reduced even further. Moreover, the electronic Thermo Management system controls oil temperature to ensure a safe and consistent differential from the dew point temperature. This strategy also prevents unnecessarily high air-end discharge temperatures and provides additional energy savings. With the heat recovery option, a
second electronic Thermo Management system ensures optimised and even more efficient use of the available heat energy – up to 96% usable for heat.
Energy-saving and environmentally-friendly fluid filters
The service friendly design and unit interior also reflects HPC's commitment to resource conservation: the environmentally-friendly fluid filter cartridges no longer have a permanently attached sheet metal housing, but rather are simply inserted into an aluminium housing. The filter cartridges themselves feature a metal-free design and are suitable for thermal disposal at the end of their service life without additional pre-treatment.
SC2 Controller ensures optimum performance
The SIGMA Control 2 compressor controller is responsible for monitoring the compressor and, if equipped, the frequency converter. This innovative controller also enables the compressor to benefit from convenient remote service options whilst allowing for straightforward connection to master controller systems such as the HPC SIGMA AIR MANAGER 4.0 or data networks, as is the case for integration of the compressors into an Industry 4.0 environment.
Full range of models
The highly versatile DSD & DSDX series includes both water- and air-cooled models. Since variable-speed drive can be advantageous for certain applications, versions are also available with variable-speed control implemented via a frequency converter. As with the standard models, these versions are also designed with maximum efficiency, reliability and ease of maintenance in mind >> DSD Series product brochure >> DSDX Series product brochure
---