Peak i-Flow
Peak Industrial specialises in the development, production, sales and service of industrial sized gas generators. As an international company with operations all over the world, Peak Industrial has over 18 global offices and a direct local presence in over 20. This includes substantial operations across North America, China and India. The purpose of this article is to provide a detailed case study on the future of centralised gas supply.
Traditional centralised laboratory gas supply is still heavily dependent on dewars, liquid nitrogen tanks or high pressure cylinders. Each option is associated with many pitfalls because they require cumbersome replacement cylinders, have safety risks associated with handling, and ongoing cost of purchasing and managing stock. Why buy bulk nitrogen when you can lessen your costs and make your own?
Why should you switch to i-Flow?
Peak Industrial's turnkey i-Flow is a solution that has been widely used and proven as a cost effective solution for centralised nitrogen supply. With i-Flow, you can replace cylinders or dewars which helps to reduce costs and hassle. Producing nitrogen on demand and with the ability to operate 24 hours a day, i-Flow is a reliable, centralised nitrogen generator system that produces high-flow, high-purity nitrogen using PSA technology. A single i-Flow can easily supply multiple applications including, but not exclusive to: modified food processing and packaging, plastics manufacturing, injection moulding, and selective soldering. Due to the unique design of the i-Flow nitrogen generator, the system can be expanded to facilitate future gas supply requirements and expansion. By increasing the number of carbon molecular sieve columns, i-Flow can increase the gas flow.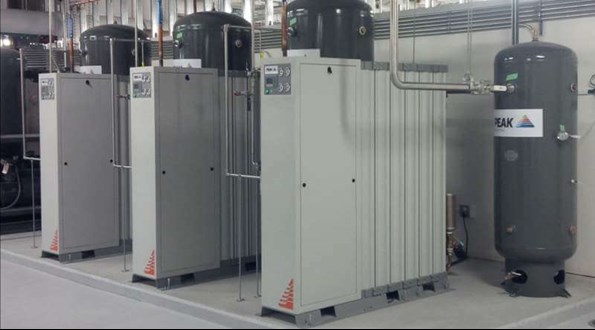 Advantages to using i-Flow as a centralised gas solution:
Convenient- Our systems create nitrogen-on-site and on-demand, eliminating the inconvenience and safety issues of frequently handling and replacing high-pressure cylinders or dewar tanks.
Cost-effective- On average you will see ongoing savings of 50% or better when you switch to an i-Flow system. By eliminating the costs associated with shipments of alternative methods of nitrogen and downtime needed to switch cylinders, i-Flow helps you and your facility save money.
Consistent- Nitrogen ensures constant supply, purity, flow and pressure stability. It also avoids the problem of different test results due to different batches of cylinders, with no introduction of gaseous impurities and no need to worry about gas depletion & replacement.
Safety- Cylinders and dewars are a potential safety hazard due to their large, awkward size and their high-pressure vessels. A gas generator will solve these problems and ensure that you are safely producing nitrogen.
Environmentally friendly- No repeated transport of alternative nitrogen supply, energy saving and carbon-free.
Expandable design- When facility expansion or more gas usage is required, the nitrogen output can be increased simply by adding more CMS columns, while maintaining the same purity. In addition, i-Flow can also support multiple devices in series to provide greater traffic output to meet a wider range of applications.
Oxygen analyser-  i-Flow is equipped with an oxygen analyser to monitor nitrogen purity in real time.
i-Flow technology
i-Flow utilizes the latest in Pressure Swing Absorption (PSA) technology alongside Carbon Molecular Sieve (CMS). To produce nitrogen, compressed air is fed into the dual pressure CMS vessels and it undergoes a cycle of compression and decompression where oxygen is absorbed and nitrogen is passed downstream. Our CMS banks are packed using a 'snowstorm' filling technique, allowing for around 18% more carbon to be compacted into the carbon bed. This ultimately prevents gas channeling and ensures i-Flow can deliver maximum levels of nitrogen purity (up to 99.9995% or 5 ppm oxygen). Furthermore, integrating i-Flow with our compressed air pre-filtration system, PureAir, guarantees the highest quality output by cleaning air before it enters the generator. 
i-Flow is a centralized gas solution that eliminates the safety hazards associated with cylinders and liquid nitrogen dewars by virtue of its safety, reliability, stability, and cost-effectiveness. With its proven technology and high-quality standards, Peak Industrial has the ability to provide a high quality service to customers from when you buy your generator and supporting the product to ensure it continues to perform for years to come.